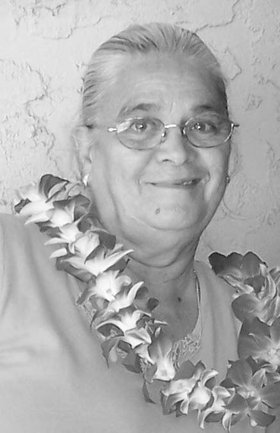 Brooksie Ann Leimomi Fikert
unknown - unknown
Mrs. Brooksie Ann - Leimomi Fikert
Brooksie, 74, was a long time resident of Ravena, NY and employee of K-Mart in Glenmont prior to returning home to her birthplace of Ohau, Hawaii. She passed away suddenly on May 26, 2012 at Queens Hospital in Honolulu. She is survived by her cherished children: Stephanie Cattell, Pamela Fikert, Rosanna Altimari - Daughters, Randell Fikert- Son; her loving siblings, Barbara Sanchez- Sister and James Clifton- Brother.
She leaves behind 13 beloved Grandchildren and 12 great-grandchildren; as well as numerous adored nieces and nephews. Brooksie was pre-deceased by her lifetime love; husband: William Frank Fikert Sr. Treasured family members: Son- William Jr. Mother: Julia Camacho Clifton, Father: George Clifton and Brothers: Millard Clifton and George Clifton, Jr.
Having lived her life with the Spirit of Aloha, she has left the world a better place for those who have known and loved her. As she has been called home to God, we now reunite her with her soulmate and together they will dwell in the house of the Lord; Blessed with Eternal Life.
So we bid a fond farewell; Aloha 'Oe......A Hui Hou.... Until We Meet Again!
Calling Hours: Memorial Service at Memory Gardens Memorial Park in Albany, NY on Monday October 8, 2012 at 11am.