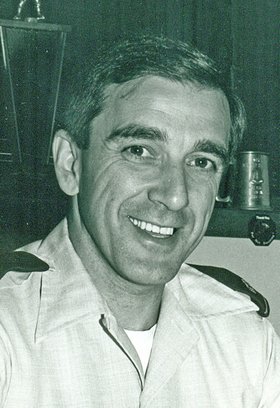 Richard Huges
unknown - unknown
DELMAR – Richard A. Hughes, 63, of Delmar passed away on Monday, June 25, 2012 after an eighteen year battle with melanoma of the eye which recently metastasized to liver cancer.

Richard was born in Potsdam, NY the son of Kenneth C. and Giovina (Trivilino) Hughes, of Norwood, NY. He graduated from Albany Business College with an Associates degree in Marketing and Management. A native of Norwood, he graduated from Norwood-Norfolk Central School. After graduating from Albany Business College, Hughes went on to graduate from Cornell University School of Industrial Labor Relations, a two year certificate course, and obtained his Bachelor of Science degree from SUNY.
He began his military career in the United States Air Force. After serving four years, he joined the New York Army National Guard in 1973. While making his way through the enlisted ranks, he served in various leadership positions such as Infantry Operations Sergeant and Company 1st Sergeant. He went on to receive his commission to Warrant Officer in 1983, and served in several positions including State Equal Opportunity Officer and Military Personnel Technician, leading to his final assignment as Strength Management Officer with the 42nd Infantry Division Headquarters.
In his civilian life, Hughes was a labor relations specialist for the Division of Military and Naval Affairs, Latham. He was actively involved in coaching Hockey, Baseball and Soccer. He also served as the vice-president of the Troy-Albany Youth Hockey Association (House League). Upon retiring from both his civilian and military careers, he was selected as head coach for the Bethlehem Central Varsity Hockey Team. He loved coaching hockey and thoroughly enjoyed working with the student athletes prior to his resignation. He could not have scripted the end of his working years any better than to end his career by doing something he loved to do. Dick had also been a member of the American Legion, Veterans of Foreign Wars and Knights of Columbus.

In addition to his parents, Dick was predeceased by his loving wife of 35 years, Mary Jane Hughes. He is survived by a daughter, Sara Tribou, son-in-law Will and precious granddaughter Emily Caroline of Watervliet, NY; a son, Joseph and a daughter, Karen both of Delmar. He also leaves behind a brother, John of Gouverneur, NY and a sister Joan of Massena, NY.
The family wishes to thank Dr. Karen Tedesco, Dr. Doyle and all the nursing and technical staff at Patroon Creek NYOH for trying their very best in taking care of our Dad.
Calling hours were held Friday, June 29th from 4 to 7 pm at the Applebee Funeral Home, 403 Kenwood Ave., Delmar. A Mass of Christian Burial was celebrated 10 am Saturday, June 30th at St. Thomas the Apostle Church, 35 Adams Pl., Delmar. Burial was in Calvary Cemetery, Glenmont. In lieu of flowers, memorial contributions may be made to the Capital District Cancer Resource Foundation, 1003 Loudon Rd., P.O. Box 611, Latham, NY 12110
www.applebeefuneralhome.com