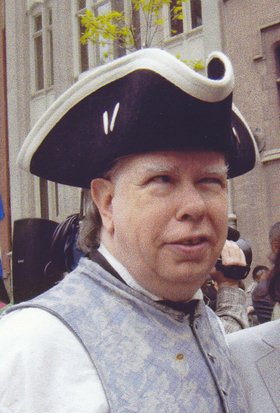 William Frueh
August 21, 1942 - February 9, 2013
William H. Frueh, Jr., 70, of Delmar, died Saturday, February 9, 2013 at home. He was born in Albany on August 21, 1942, the son of the late Dorothy (Molter) and William H. Frueh, Sr. Bill was a faithful long-time member of Bethlehem Community Church. He worked as a social worker for nearly forty years at Northeast Career Planning in Menands. Since 1960, Bill had been a devoted participant in historical reenacting, and in presenting educational programs wherever the opportunity arose.
He is survived by his wife, Nancy Frueh of Delmar; children, Charles Frueh (Shyra Murphy) of Geneva, NY, Nellie Bradley (Edward) of Delmar and Sarah Frueh of Delmar, and grandsons William and Jacob Bradley of Delmar; and step-children Rebecca Scanlon of Niskayuna, and Eric Scanlon of East Berne. He was predeceased by his dear wife of 37 years, Donna L. Frueh. A funeral service will be held at 11:30 am Saturday at the Bethlehem Community Church, 201 Elm Avenue, Delmar. Relatives and friends are invited to call at the church on Saturday from 9:30 to 11:30 am. Burial will be in St. John's Lutheran Cemetery, Colonie. Those who wish may send a remembrance in his name to the Missions Fund at Bethlehem Community Church, 201 Elm Avenue, Delmar, NY 12054.

Services for William Frueh
February 11, 2013

Funeral: 11:23 a.m. to 11:23 a.m.

Services Location
Applebee's Funeral Home
403 Kenwood Avenue Delmar, NY 12054
(By the 4 corners)
518-439-2715