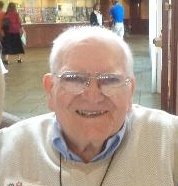 Sam F. Venezia
December 16, 1922 - December 18, 2013
GLENMONT – Sam Venezia, 91, died December 18, 2013. He was born in Paterson, NJ on December 16, 1922 to Teatolinda and Aniello Venezia. On February 22, 1952 he married Hermina (Mina) Schweighardt and they spent the next 60 years together. Sadly, Mina passed away in 2012 after a long battle with Alzheimer's.
Sam spent many years working for Hobart Corporation selling food service equipment. He was a veteran of WW II where he served in the Army with the 249th Engineer Combat Battalion. He was a graduate of New York University and was a 2013 recipient of the Senior Lifetime Achievement Award presented by the Capital District Senior Issues Forum. He loved to spend time with his family. He enjoyed cooking, golf and bridge, and was an avid sports fan following the NY Yankees and the NY Giants.
Sam will be missed by his sons, Frank (Valerie) of Glenmont, NY and Thomas (Lori) of Bloomfield, CT. and his granddaughters, Jessica, Jill, Emily and Bridget. He also leaves behind his brother Joseph (Ele) Venezia, his sisters-in-law Kay Reay and Mary Ellen Zahorian and several nieces and nephews. In addition to his wife, Sam was predeceased by his sister Rose Lang and brother Ralph Venezia.
A private memorial service honoring Sam will be held for the family at Applebee Funeral Home and he will be interred at the Gerald B.H. Solomon Saratoga National Cemetery.
While Sam did not have Alzheimer's, the family was affected by the disease. Therefore, they request that in lieu of flowers, donations be made in memory of Sam and Mina to The Alzheimer's Center of Albany Med., 47 New Scotland Ave, Mail Code 65, Albany, NY 12208 or The Alzheimer's Association of NENY, 4 Pine West Plaza, Suite 405, Albany, NY 12205.
www.applebeefuneralhome.com

Services Location
Applebee's Funeral Home
403 Kenwood Avenue Delmar, NY 12054
(By the 4 corners)
518-439-2715