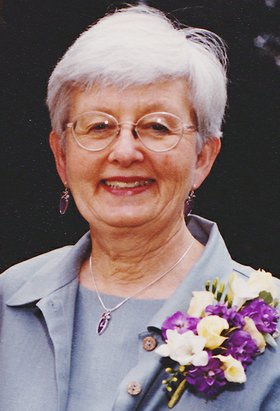 Barbara Ann Ferrari
unknown - March 5, 2014
DELMAR - Barbara Ann Ferrari, 80, died peacefully on March 5, 2014 after a brief illness. Born in Hamilton, Ontario, Mrs. Ferrari grew up in Cayuga, Ontario and was the only child of the late Earl Gruer Bennett and Iva Jane (Kingsley) Bennett. She graduated in 1956 from the Macdonald Institute (now the University of Guelph) in Canada, then received a master of science degree in foods and nutrition from Pennsylvania State University in 1958.
She married Richard Alan Ferrari in 1958 and was a resident of Delmar, New York for over 50 years. Mrs. Ferrari became a naturalized U.S. citizen in 1968. She taught nutrition at the Albany Medical Center School of Nursing and then served as a dietitian at the Veteran's Administration hospital in Albany for 20 years.
Mrs. Ferrari was preceded in death by her husband of nearly 40 years, Richard Alan Ferrari, in 1998. She is survived by her three children: Margot Fry (David) of Greensboro, NC, Jim Ferrari (Theresa) of Macon, GA, and Cindy Ferrari (Bryan Thomas) of Delmar, as well as her six granddaughters, Abby and Rachel Fry, Eliza and Laurel Ferrari, and Zoe and Maya Thomas.
Mrs. Ferrari was a member of St. Peter's Episcopal Church in Albany, NY and the Progress Club of Delmar. She was an avid reader who also enjoyed sewing, needlework, bridge, cooking, travel, and chocolate in all forms. Her family will remember her as a kind and gracious woman whose quiet sense of humor was revealed by the twinkle in her eye.
The family would like to express their gratitude to the staff of Good Samaritan Nursing Home of Delmar and to staff and volunteers of The Community Hospice for their gentle care.
Arrangements were by Applebee Funeral Home, 403 Kenwood Avenue, Delmar. A short service of remembrance was held Saturday, March 15. Interment, held privately, was at St. Peter's Episcopal Church columbarium in Albany.
Those who wish may make memorial contributions to the Bethlehem Public Library or to the hospice program of their choice.
Services Location
Applebee's Funeral Home
403 Kenwood Avenue Delmar, NY 12054
(By the 4 corners)
518-439-2715