Valerie Lansing ( in Latham) says...

A nice spa day to get a massage ... and spending the day with your child.
Meghan Hotaling ( in Delmar) says...

A massage is a good gift for a mother my age. Flowers are good, too. Not ones that will die, but a nice potted plant for the summer.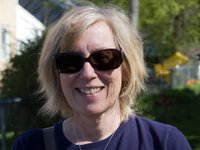 Carolyn Hejna ( in Delmar) says...

Mother's Day is a hallmark holiday, so since every day is Mother's Day when Mother's Day did come around on the calendar probably the best thing you could do is up the ante for cooperation and respect for mom.