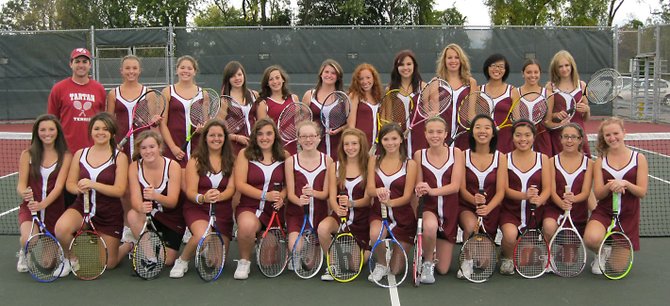 The 2011 Scotia-Glenville girls tennis team, left to right: (front) Kathryn Martin, Alex August, Sam Montague Carli Aragosa, Sam Rizzo, Emily Hughes, Alyssa Salamone, Laura Ciotoli, Caitlin Estes, Lisa Zhou, Jamie Cheung, Courtney Greenwood and Julia Goyette; and (back) Coach Geoffrey Olson, Jaime Brown, Jes Briere, Abby August, Victoria Carringi, Becca Zoeller, Olivia Marola, Hannah Hutchinson, Colleen McLaughlin, Lydia Zhou, Angela Guzzo, Emma Lydon. Missing from picture: Madison Macejka.
Stories this photo appears in:

Lady Tartans win Foothills Council championship
The Scotia-Glenville girls tennis team completed its 2011 season with a 16-1 record and its second consecutive Foothills Council title.