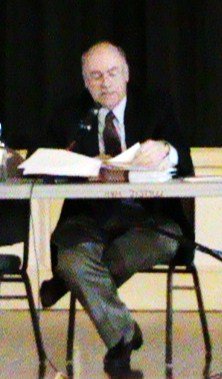 Public Safety Commissioner Christian Mathiesen reads from his"diary" that includes a narrative of him witnessing events in the city's nightlife.

Stories this photo appears in:
Saratoga Springs nightlife at the root of recent discussion between bar owners, public
"Saratoga sells itself as a place with health, horses andhistory – yet we are also a place that offers more chances to get drunk than anywhere else in the county. We started off as a place associated with mineral water. …I think Saratoga is confused as to what it's selling itself as. As afamily town but also as a place for entertainment." Skidmore student Patrick Klimaszewski, who is studying Saratoga Springs as part of his research in anthropology.