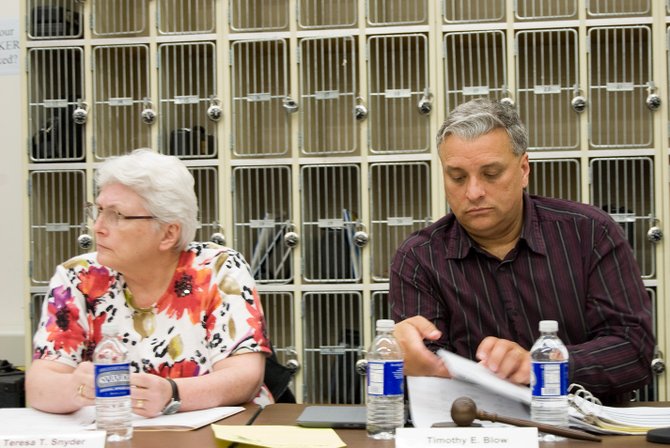 Voorheesville Board of Education President Timothy Blow, right, and Superintendent Teresa Thayer Snyder listen to the public comments at the board's Monday, April 8, 2013, meeting.
Stories this photo appears in:

Snyder to leave post after school year; school board member resigning
Teresa Thayer Snyder is ready to step down from her leadership post at Voorheesville school district following a life-changing year.

Property taxes would increase 2 percent; state aid boost restores cuts
The Voorheesville Board of Education on Monday, April 21, unanimously adopted a spending plan totaling $22.89 million, which remained essentially unchanged from its March 31 meeting.

District's state aid declining; pleas to not eliminate freshman basketball
Voorheesville CSD's proposed 2013-14 budget totals $22.6 million, which is an increase of $695,000, or 3.17 percent. The proposed property tax levy increase of 3.23 percent is below the district's tax cap threshold.