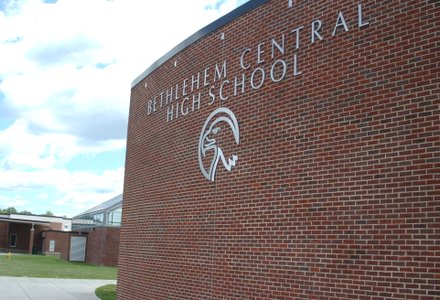 Fri

Sat

Sun

Mon

Tue

Latest stories

Quick thinking 11-year-old avoided accident, but lost his bike

Chief of Police Heider retires, Teale sworn in as new chief
Do you think the Tri-City ValleyCats will make the New York-Penn League playoffs in 2015?
Clean Strawberry Short Cake
I get a little sentimental when June arrives, because it's a month that marks both my dad's birthday and Father's Day.

The Bethlehem Central School District has been ranked sixth in overall educational performance out of 431 upstate school districts.
Party to vote on who represents Independence for supervisor in elections
The Independence Party is deviating from its usual support of Democratic Town Supervisor Paula Mahan to allow for a primary between Mahan and Republican candidate Christine Benedict.
Sweat is not the benchmark to a good workout
Recently in one of our group fitness sessions the question came up about sweat. Sweat is such an ugly word and we don't like it in my studio, so we call it "glistening."
Town announces winner in second round of microenterprize grants
The town has announced another microenterprize grant winner during its second selection round.
Retail therapy may be a prescription for you
Whoever said you can't buy happiness never experienced the joy of a new pair of shoes.

North Colonie students designed, and test, Albany International coloring book
A group of Blue Creek third-graders got a chance to test out and critique Albany International's new coloring book designed by Shaker High School students.
Town of New Scotland seeks to change agricultural land to commercial
Conversion of agricultural land into commercial development land was the primary topic of discussion at a zoning advisory committee meeting last week.

Old Songs Festival kicks off Friday
If the grounds of the Altamont Fairgrounds could talk, it would spin a yarn of tales about old-time baseball games, automobile exhibitions and the countless of summer romances that blossomed under the carnival lights.

Douglas moving-on to Southern Tier district
After more than three years, Bethlehem Central Superintendent Thomas Douglas has opted not to renew his contract and will be leaving for a new district in the Southern Tier.
Rehabilitation Support Services suing over town rezoning Latham property
The town is facing two lawsuits after Town Board members voted to rescind zoning for a Planned Development District, holding up plans a local rehabilitation support company had to build low-income housing.